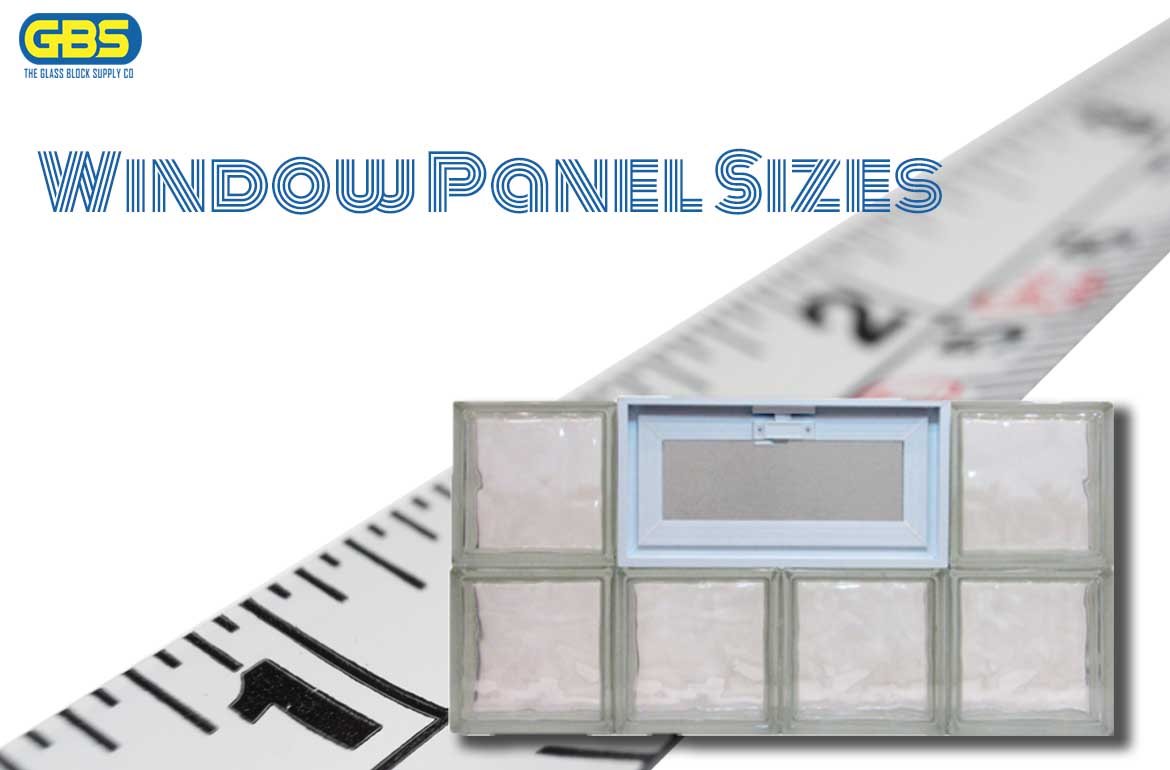 How to size window panels for glass block windows
Window Panel Sizes for Glass Block Windows
Prepping for your installation of window panels is an extensive process that demands precision and accuracy. If you're in the process of sizing window panels, here are some questions you may come across:
What is the difference between a glass block window and a glass block panel? They look the same to me.
I need to make a decision on what my window will look like. I'll likely be seeing these windows frequently, so I want it to meet my standards. What should I get?
I've seen many different types of glass block. What pattern would look best for my window?
I need to calculate the sizing that will fit in my home or business. Can my window selection that I'm seeking fit in my openings? What glass block window and panel sizes are there?
Should I include a glass block window vent?
Should I look for a window that has mortar joints or silicone joints?
We are here to help you make your planning process easier. We are a proud provider of SEVES glass block windows and have served the installation industry for over 35 years, so we know a thing or two about glass block window panels.
The Glass Block Supply Company is here to help.
Glass Block Panel vs. Glass Block Window
When browsing our website, you might stumble across the "Panels & Windows" tab. So what is the difference between these two parts?
The main difference between a panel and a window is the sizing and frame. Our Clear Choice® Panels don't require painting, caulking, or puttying. These panels are built using silicone instead of mortar, and require very little maintenance once installed. The prefabricated Clear Choice® Panels are typically used as replacement window for home and bathroom remodels. The majority of our panels can be built to a specific size, so it's easy for the panel to be placed in a fixed size opening that already exists. Adding a glass block window vent to these panels makes them the perfect for bathroom, kitchen, and basement applications.
Our prefabricated Clear Choice® Windows, however, are most ideal for new construction homes and businesses where the foundation can be built around the window. One example of this would be our Clear Choice® Pour-In-Place Windows. These windows are built using a vinyl frame that is welded together for maximum strength. These are available as a fixed glass block window or using a removable sash. They also are available with or without a glass block window vent. Our windows are secured with a perimeter seal and a snap-in nailing flange to create a waterproof seal.
Our Clear Choice® Pour-In-Place glass block windows are designed and packaged to be installed before foundations are poured, so installation is a breeze. In fact, the two-step installation can be done in less than five minutes.
Are glass block windows the right choice for my home? 
Aside from just aesthetics, glass block windows and glass block panels are extremely energy efficient. Using energy efficient glass blocks in your home reduces your energy costs. These energy efficient windows keep your home cooler in the summer and warmer in the winter by providing over 50% thermal resistance. Our energy saving glass blocks have a remarkable U-Value of 0.19 meaning less heat will get through the glass block and be the perfect insulator. Windows and panels built with the energy saving glass blocks are for blocking heat from passing through, however, they still maintain the ability to allow maximum light transmittance.
The daylighting capabilities glass block provides is great for not only your health but it is another way to save energy in your home by not having to turn on your lights as often. Give us a call to learn more. Our energy savings glass blocks come in a variety of patterns!
What do I want my window to look like? What patterns will work best for my home?
There are hundreds of glass blocks available to choose from, which means you have artistic freedom to choose a glass panel that fits your aesthetic. We provide a vast selection of choices to make this customization possible.
We have a selection of 24 different glass blocks. If you are looking for clearness and simplicity, you might find a strong appeal in glass block options like Clarity, Arctic, or Clearview. If you like a decorative style, consider our Large Cross, Small Cross, Alpha, or Deco pattern Panels.
Privacy is a huge consideration when installing a new glass block window. The location of the window in your home or business can have a large influence on the pattern you choose for your glass block. A glass block bathroom window, for example, may need a more distinct pattern like Cross Small, Inca, Maya, or Ice Panel. These patterns distort the image so it's difficult to see through the glass block, while still allowing light flow.
For spaces such as kitchens and basements, patterns like Artic, Clarity, Alpha, and Clearview are popular choices. These patterns allow for the most amount of light transmittance and are ideal for spaces where privacy is not a top concern. The biggest advantage of using glass block in your home is the ability to customize your window or panel to your style and needs.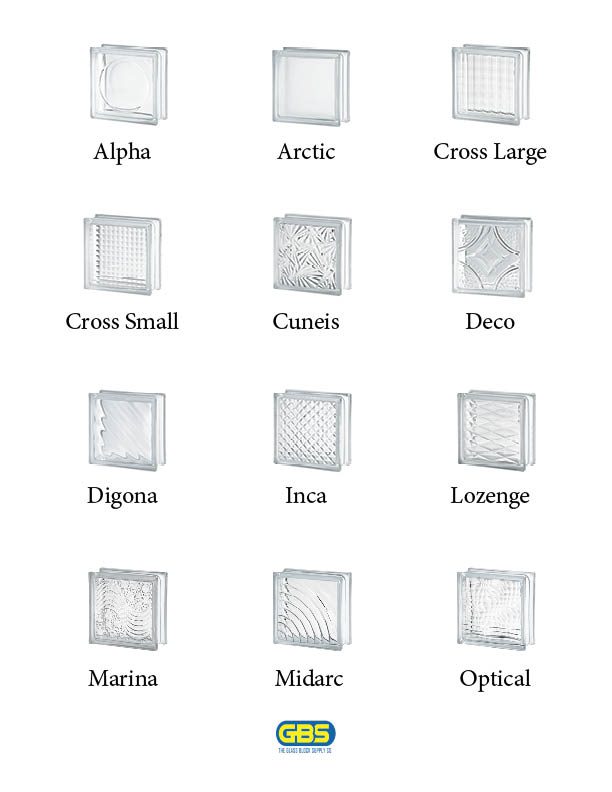 Sizing Options
Most of the glass block that is used for window panels are approximately 8" x 8" (height x width). The height and width in your measurements are routinely calculated by increasing in 8-inch increments. One of the most popular measurements that you will see in new construction is the 32" x 16" window panel sizing, which is usually the minimum sizing, and is commonly used in basements.
Nubio, Diamond, Ice, and Clarity SEVES Glassblock offer smaller glass block options, utilizing glass block sizes of 6" x 6". The minimum pre-built window panels sizes for these glass blocks is 30" x 12" (with a 3-inch thickness).
By using different sized glass blocks, any opening can be filled. This is especially useful with retro fits – existing homes or businesses where openings are not built in 8-inch increments. For these scenarios, it helps to call one of our representatives at: 877-427-8775, and we will develop a plan to put together a window that fits your specifications.
Sizing Options for 6″ x 6″:
Minimum (30" x 12")
Maximum (48" x 48")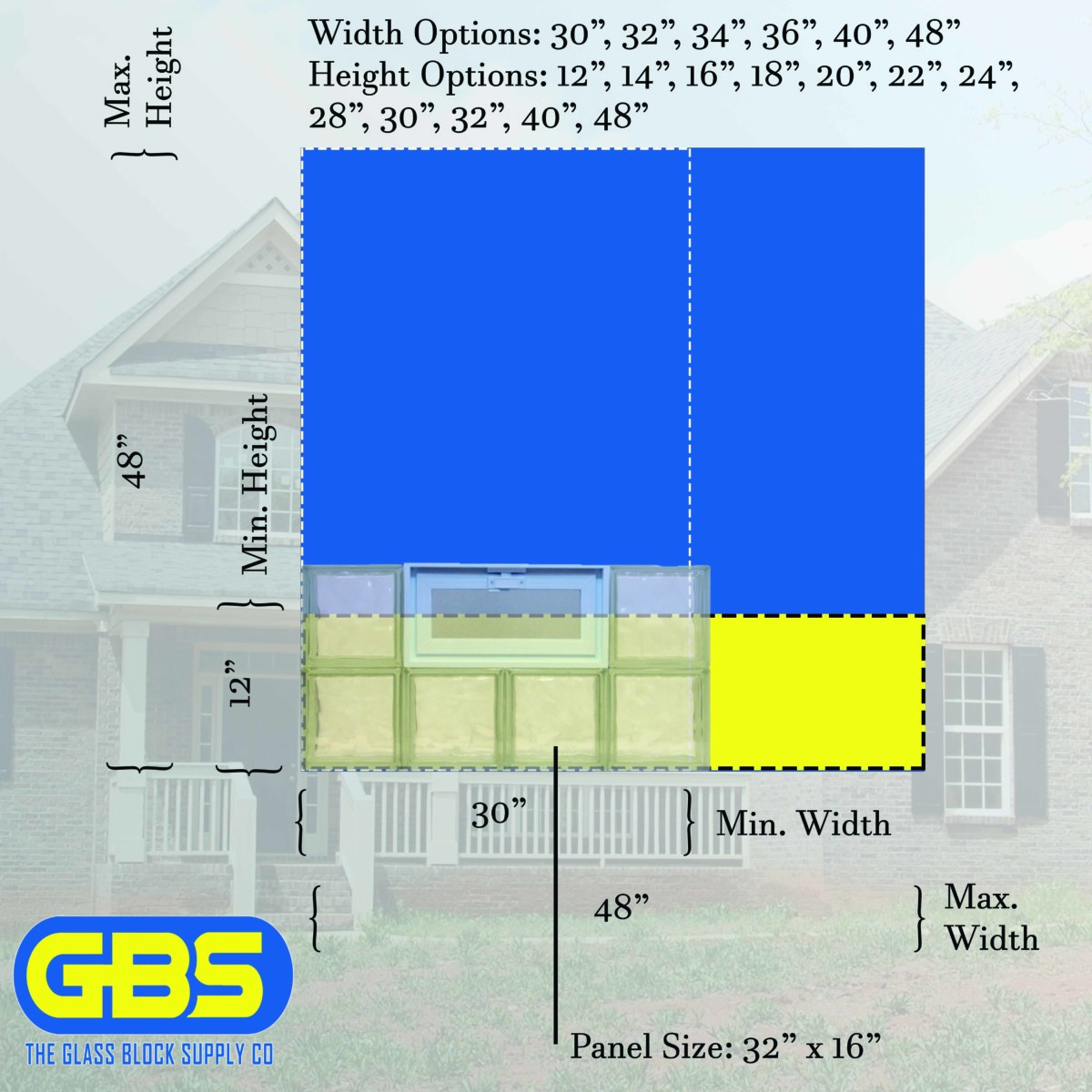 Sizing Options for 8″ x 8″ Glass Blocks:
Arctic, Cross Large, Cross Small, Cuneis, Deco, Alpha, Digona, Inca, Lozenge, Marina, Maya, Midarc, Optical, Paralline, Samba, Savona, Sponge, Stella, Wave
Minimum (32" x 16")
Maximum (48" x 48")
The thickness of the glass block is either 3" or 4". Commercial buildings routinely use a 4-inch thickness, while residential buildings are typically 3 inches.
Glass Block Window Vent or No Vent?
Another customization choice you'll have is whether you want to have a vented or solid glass block window/panel.
Including a glass block ventilator allows air to flow into the room. Vinyl dryer vent blocks are also useful for air flow and allow you to vent your dryer exhaust hose to the outside of your home. 
Our glass block ventilators come in variety of sizes to make it easy to fit within any configuration of glass blocks. Sizes range from 14″x8″x3″ to 24″x8″x3″. These glass block window vents feature a frosted glass sash door with extruded bubble seal on the perimeter which ensures good thermal properties. The inside of the glass block window vent features an insect screen to keep bugs out of your home or office.
Replacing regular basement windows with glass block windows without a frame or with a vinyl frame can be helpful when it comes to opening the windows for ventilation. Regular windows for a basement that sit in a metal frame tend to rust shut, as they build up moisture over time. Replacing these windows with a glass block window, with or without a frame, means there is no metal to rust, peel, or rot. Glass block windows with a vent can always be opened and allow for airflow.
The dryer vents feature a fully welded frame for added strength. This vent uses automatic shutters to keep air out when not in use and is available in multiple sizes to fit any glass block panel or window.
Ultimately, the decision to use a glass block window vent is up to you and your needs. Adding a vent to your glass black window or panel is beneficial for:
Improving ventilation
Keeping bugs out with insect screen
Energy efficiency
Large number of sizes to fit almost any window
Glass Block Panel – Solid and Vented
The use of Silicone vs. Mortar Glass Block Window joints
Our prefabricated glass block windows and panels are now built using SilFlex RTV 7500 Silicone. While the use of mortar gives the traditional look of glass block windows, silicone provides a cleaner look. Using silicone makes panels and windows easier to build and install. The number one reason glass block windows are so popular for bathrooms and basements is because of their ability to allow light into spaces that were previously dull and dark, and using silicone for the joint instead of mortar allows for even more light flow to shine into your glass block bathroom.
As mentioned above, sizing is a key factor when it comes to building a glass block window. Silicone joints are typically smaller than mortar joints, allowing for a better fit into vinyl frames and existing openings. The SilFlex RTV 7500 that we use at The Glass Block Supply is designed for adhesion to wood, vinyl, fiberglass, aluminum, and glass. The silicone will provide years of protection from sun, rain, and extreme temperatures.
If you are looking to learn more about mortar and panels built using mortar, check our blog what is mortar?
So what about colored glass blocks? We carry a wide variety of different colored glass block collections. However, in most cases, colored glass block is not used in our glass block window panels. This is because most colored glass blocks get their color from paint on the inside of the glass block. Since our glass block windows and panels are on the exterior of homes and buildings, exposure to the sun can increase the rate at which the paint fades. There are a few glass block colors that are colored from the glass being dyed and will not fade from the sun.
If this is something you are interested in, talk to our team about colored glass block options.
It is known that glass block windows and panels are easy to maintain, however, they still need to be occasionally cleaned. Learn more about how to clean your glass block windows and walls in our blog about a glass block shower.
About GBS -The Glass Block Supply Company
The Glass Block Supply Company, as well as its sister affiliate, GBA Architectural Products & Services, have installed and provided glass block since 1985. GBS strives to provide customers with the widest selection of glass block, delivered fast and on time.
The difference between GBS and any other glass block supplier is our expertise and customer service. GBS will promptly work with customers to answer any questions or concerns.
We have all of the supplies you need. If you decide you are also in the market for regular glass block windows, we conveniently offer them with the same options as the panels. If you are looking to build your own window, we can provide individual cases of glass block, as well as all of the accessories you will need, such as mortar, mortar spacers, and panel anchors. 
For any questions or information, we encourage filling out our CONTACT FORM, or by contacting us at 877-427-8775.
Other Blogs:
Blog #1: What is Mortar?
---