Glass Block Bathroom Windows and Walls
The way we use glass blocks in design and architecture projects has evolved over the past 35 years that The Glass Block Supply Company has been in business. We have grown from routine basement windows, to unique product applications that make a statement in your home. Bathrooms have become the number one place for glass block windows and walls in residential applications.
If you're looking for creative ways to use glass block in your bathroom, we've got you covered. From glass block windows to glass block showers, this design feature has the capability to transform your space into a one-of-a-kind architectural product.
Two Ways to Use Glass Block in Your Bathroom
Here at The Glass Block Supply Company, we supply glass block for different types of applications in rooms throughout your home or business. One of the most common applications is glass block windows and shower walls in the bathroom.
Glass block windows and shower walls are great for bathroom applications where privacy and maximum daylight is desired. Our wide variety of glass block patterns make for distorted visibility through the glass, while allowing natural light flow to pour in.
Glass block windows and shower walls are two different applications, but both make a noteworthy difference to the design of a bathroom.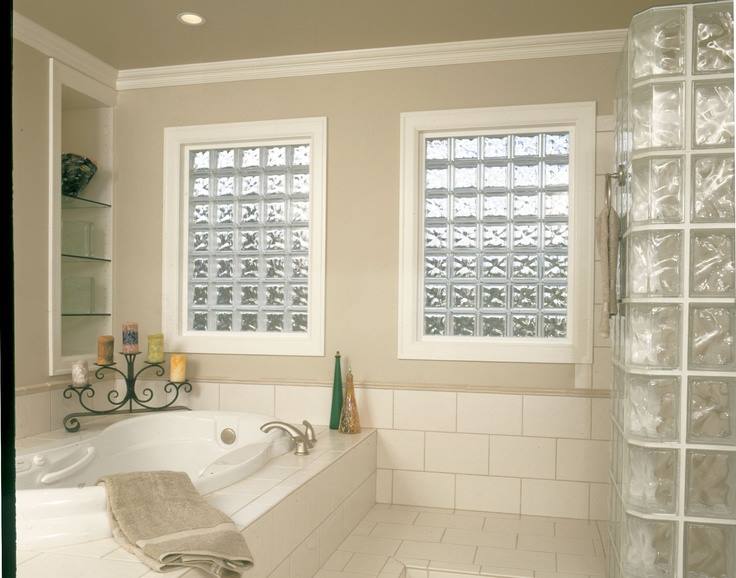 Different Ways to Make Your Design Stand Out
Glass block bathroom walls are perfect for encasing walk in showers. As mentioned above, patterned glass block effectively provides privacy to prevent people from looking through. Patterns such as IceScapes, Light Diffusing, and ARGUS™ are great for distorting what is on the other side. If privacy is your main concern, you may want to stay away from patterns such as Nubio, Clarity and Clearview. These patterns have the most light transmittance which is usually wanted in small spaces, but they will not distort what is on the other side of the window or wall. The use of glass block in your bathroom allows you to divide private spaces without using curtains, drywall, window privacy stickers, or other light blocking materials.
The use of colored glass block has also become increasingly popular in homes. Using a colored glass block for your shower or window allows you to fully customize your project to match the style of your home. Between the Design Line Pegasus, Mendini and New Color Collections, and the Basic Line Soft and Strong Shades, you'll find exactly what you're looking for.
Another way to make your shower wall unique in your home is by mixing different sized glass blocks. We carry glass blocks in a variety of sizes such as 8″x8″x4″, 6″x6″x4″, 12″x12″x4″, 6″x8″x4″, and more. Using two or more different sizes in your window or wall allows your glass block project to stand out without compromising color palettes within your bathroom.
At The Glass Block Supply Company, we also carry a large number of patterns in Metric sizes such as Clearview, Paralline, Maya, and other distinct patterns. Using different clear patterns makes it easier to change your bathrooms color palette as trends change.
Below you can see the different visibility levels of three of our most popular glass block patterns.
In addition to the privacy of glass blocks, this design feature is also an effective way to lower energy costs in your home. The Energy Savings Glass Block provides over 50% thermal resistance and a U-Value of 0.19, providing a higher level of insulation for your home.
Over the last few years, glass bricks have become extremely popular for residential applications. Glass bricks are thought to be more modern and more aesthetically pleasing. The glass bricks can be used in place of traditional bricks to create dramatic shower walls and allow for a maximum transmission of light. The Vetropieno Line comes in variety of sizes and comes in four different colors: Neutro, Blue, Siena, and Nordica.
Whether its a full or half glass block wall in your bathroom, the easy maintenance glass block offers in one of the main reason clients choose it for their home.
Are Glass Block Showers Easy to Clean?
One of the most common types of glass block projects is the design and installations of glass block shower walls. Glass block shower walls provide a great source of natural light, while allowing for custom options with the different patterns we carry. This is a great way to switch up the traditional use of ceramic tiles often used in showers.
Having a glass block shower begs the question: How hard is it to clean used glass blocks?
The short answer is it requires some effort. Keeping your shower walls clean is not difficult nor time consuming, it just needs to be done correctly. The good news: We're here to help.
How to Clean Your Glass Block Shower
The most important aspect of cleaning your glass block shower is protecting the mortar. The mortar requires basic maintenance like anything. Before you get into cleaning, it's important to make sure the mortar waterproofed. Fortunately, this is a simple process.  
It's recommended to waterproof the mortar at minimum every two years. You'll want an external type water proofer, available on Amazon or a hardware store. Before you apply the water proofer, remove excess sealer from glass surfaces, then apply it over the mortar. Waterproofing will maintain much of the beauty of your glass block.
If you're looking to build the glass block shower wall, it's also recommended to use an integral type of water repellent, a hydrocide powder that's mixed in with dry mortar mix. Avoid mixing with wet mortar mix.
When you clean the mortar joints, just use water and a simple mild detergent that has no coloring. Some people make the mistake of using colored cleaning agents that can discolor the white mortar. Also, avoid ammonia and bathroom chemicals, as these don't mix well with mortar and also discolor it.
If you use the proper products, cleaning and maintaining your glass block shower is easy.
The Products You'll Need:
Mortar sealant
Mild detergent
Water
Small brush to reach the joints
A little elbow grease
With cleaning and normal bathroom use, you may see some wear and tear on the glass blocks over time. So what happens if a block gets chipped or damage over the years? Will you have to replace the whole shower?
The good news is a single block can be replaced from most windows and walls, no matter where it is positioned. Glass block windows and walls are incredibly sturdy and breaking apart a single block will not compromise the structure of the entire window or shower wall.
The Safety Glass Block Provides
One important safety feature glass block provides for residential and commercial applications is fire resistance capabilities, hurricane, and tornado resistance.
In some cases, zero lot line construction properties may require glass block in bathroom windows that are placed on the sides of the home. A property that would be considered a zero lot line property would be row homes, garden homes or townhomes. These properties are located in urban environments without large yards.
Using a fire rated glass brick on these properties is often required by zoning laws, to limit the risk of fires spreading between homes. VISTABRIK® glass bricks are a great option for a providing fire resistance without compromising design aesthetics. Here at The Glass Block Supply Company we also carry multiple glass blocks with 45-minute, 60-minute, 90-minute, and now 120-minute Fire Ratings. These glass blocks come in a variety of different patterns such as, Nubio, Endura, Cross Ribbed, and more.
Not only is glass block excellent at protecting from fire, the Engineered Glass Block Systems that we carry also protect against hurricane and tornado-force winds. The Prefabricated Hurricane-Resistant Panels are recognized by Miami-Dade County, the State of Florida, and the Texas Department of Insurance for their ability to protect from hurricane force winds and flying debris. The Prefabricated Tornado Resistant Window Panels are built with their steel frames and solid glass block glazing to protect against air pressure and flying debris. Both applications can be used anywhere in your home or business. However, if you live in an area where these natural disasters are prevalent, considering an Engineered Glass Block System for maximum safety.
Head to our Pinterest board "Design Inspiration" to see more unique product applications for your home and office. We are constantly updating the board with the latest glass block trends for your home.
---
About GBS -The Glass Block Supply Company
The Glass Block Supply Company is a leading provider of glass block and accessories. If you're planning to install glass block windows or a glass block shower to liven up your space, we can supply you with everything you need.
As a company that has completed installations across the country since 1985, we provide something that big box stores can't: expertise and unparalleled customer service. If you have questions about putting together a glass block project, we can walk you through the process.
For assistance on how to install or design a glass block bathroom window or shower wall, we encourage filling out our CONTACT FORM, or by contacting us at 877-427-8775. We're here to answer any questions.
We are a proud distributor and partner of Seves Glass Block™.
Other articles similar to 2 Unqiue Ways to Use Glass Block in Your Bathroom and Is Glass Block Easy To Clean?