Basement Windows we carry at The Glass Block Supply Company
While glass block is the bread and butter of what we do here at The Glass Block Supply Company, it is not all we do. We also supply a variety of glass basement windows that help protect the integrity of your home. We provide three different types of basement windows, including glass block basement windows, hopper windows, and egress basement windows. Each type of window has unique characteristics that will set it apart from the others.
Glass block basement windows are what we do best! Whether you are looking for a basement window replacement or a glass block window for a new construction, we can help. With the large variety of glass blocks in our warehouse, the options for your windows are endless. Our glass block comes in several sizes and different patterns. If you want maximum privacy, a pattern such as IceScapes, Cortina, or Light Diffusing. For a more transparent and unobstructed view, a pattern such as Nubio, Clarity or Alpha would be the way to go.
Regarding sizing, we carry glass blocks for basement windows in 4″ thickness, 3″ thinline, and metric sizing. The size of the opening will help determine which size of block will fit best. Within these size categories, there are a variety of shapes available. For example, 8×8 and 6×6 blocks are square, but there also is 6×8 and 4×8 blocks that are rectangular. The shapes can be mixed in to create a unique window that best fits the opening. Both shapes, by themselves or mixed in with one another, will provide a different look and aesthetic for your window.
With a glass block basement window, there is the option of a solid window or a window with a vent. These vents have a frosted glass sash door and an exterior screen that keeps insects and bugs out. These vents are offered in a wide range of sizes, making them available for any configuration of glass blocks. The vents are made of vinyl that will not peel, dent or rot.
A highly sought-after quality of glass block windows is the sense of security they can provide. Glass blocks are impact-resistant, fire-resistant, and vandal-resistant.
Hopper basement windows are a type of hinge window that opens from the top. The way hopper basement windows hinge is into the home. Whereas other windows, such as an awning window, open away from the house. Our hopper basement windows can be used for replacement windows and pour-in-place new construction basement windows. Hopper windows are great for reducing humidity in areas that are typically damp. The direction the hopper windows open allows the hot air to rise and escape out the window, allowing for cooler, fresh air into the home.
Basement egress windows are the type of window that should be used for basements that have been finished for a bedroom or living space. Finished basements must have a means of escape window in case there is a fire, and all other exits are blocked.
Basement egress windows are a new product for The Glass Block Supply Company. We now carry a variety of egress window options. An inexpensive but high-quality option, as well as, a slightly more expensive option that is recommended for pour-in-place basement windows. Egress windows have similar advantages to hopper windows. They are great for allowing light and ventilation into typically dark and damp areas.
Pour in Place Basement Windows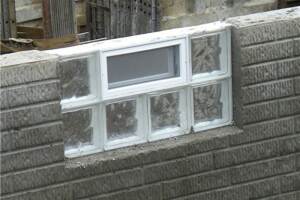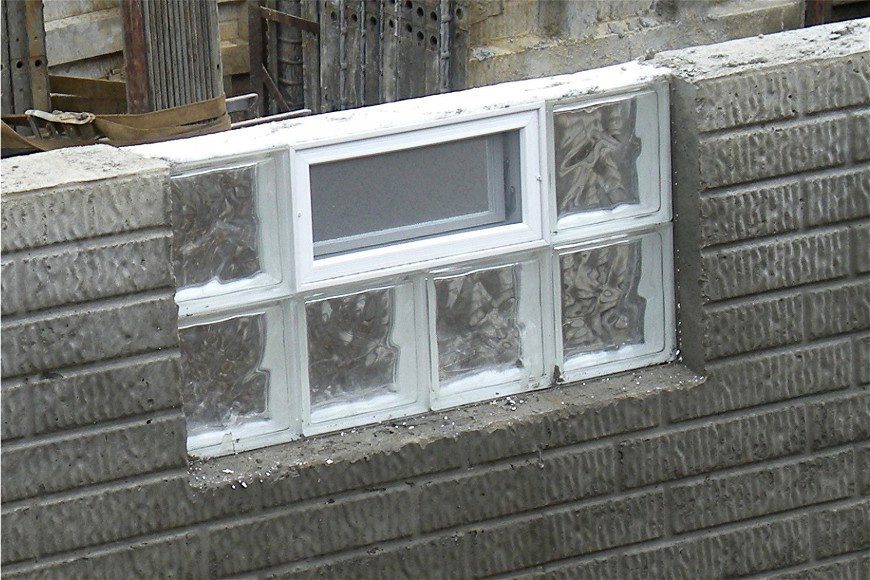 What makes the pour-in-place panels so unique is that they are placed within the wall framing before the foundation of the building is poured. These windows can be used in various wall thicknesses such as 7-1/4″ to 10″. The installation of these panels is easier than any other panels we carry. Our pour-in-place basement windows can be installed in five minutes! With a removable sash, these windows are easy to replace if need be. To learn more about the installation, check out our page, Pour in Place Windows.
Our pour-in-place windows and panels can be glass block, hopper or egress windows. To learn more about which would be best suited for your home, call us today!
We Are The Glass Block Supply Company
We have a solid reputation as a dedicated Glass Block supplier and have successfully served the commercial and residential construction and remodeling industry for over 35 years.
We are a sister company of GBA Architectural Products + Services, a specialty contractor with the ability and experience to complete any size glass block or structural glass project.
Contractors, Wholesale Supply Yards, and Architects call (877)427-8775