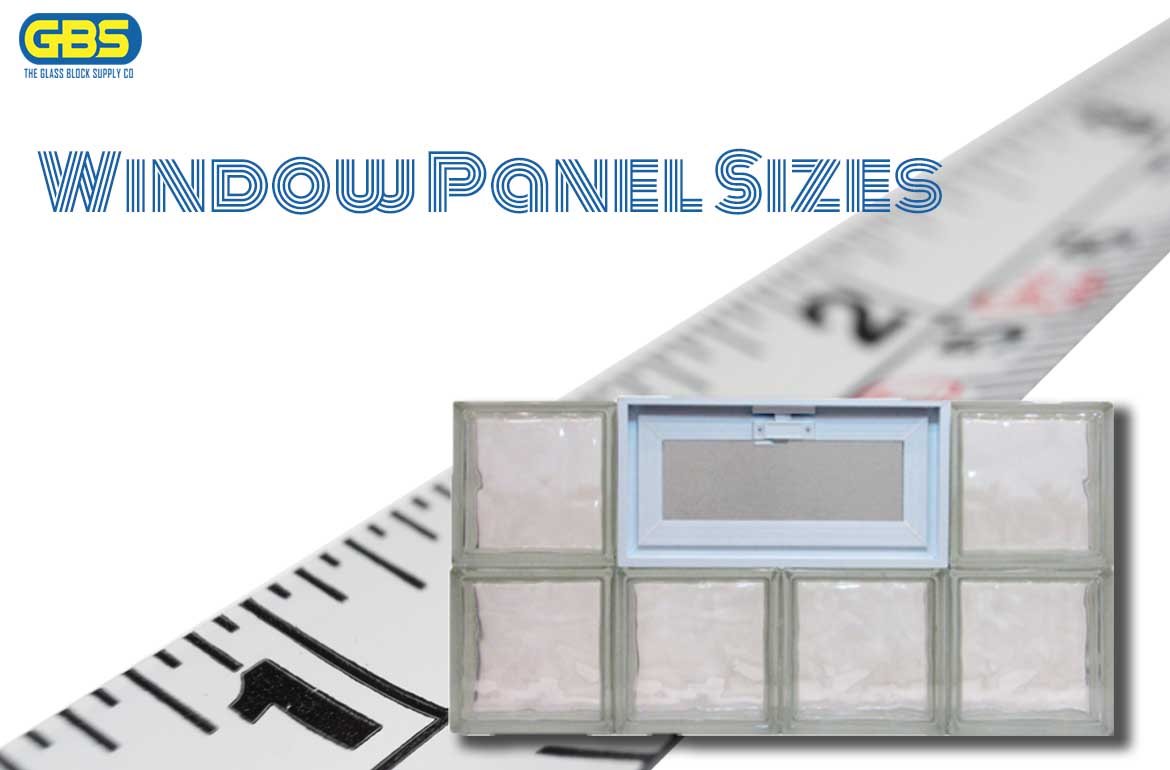 Window Panel Sizes
Window Panel Sizes: Prepping for your installation of window panels is a process all of its own. You'll likely be finding yourself asking these types of questions:
I need to decide on what my window will look like. I'll likely be seeing these windows frequently, so I want to get it right. What should I get?
I need to calculate the sizing that will fit in my home or business. Can my window selection that I'm seeking fit in my openings? What window panel sizes are there?
Should I include a vent in my window?
We're here to help you make your planning process easier. Being a proud provider of Seves Glassblock Window Panels, serving in the installation industry for over 30 years, we know a thing or two about window panels.
We're here to help.
What do I want my window to look like?
The glass in your panels is where you're going to have the most flexibility of artistic value. We provide a vast selection of choices.
We have a selection of 24 different glass blocks. If you're the kind of person that enjoys clearness and simplicity, you might find a strong appeal in glass block options like Clarity, Arctic, or Clearview. If you like a decorative style, perhaps you'll enjoy a Large Cross, Small Cross, Alpha, or Deco pattern Panels.
Sizing Options
Most of the glass block that is commonly used for window panels are approximately 8" x 8" (height x width). The height and width in your measurements are routinely calculated by increasing in 8-inch increments. One of the most popular measurements that you'll often see in new construction is the 32" x 16" window panel sizing, which is usually the minimum sizing, commonly used in basements.
Nubio, Diamond, Ice, and Clarity Seves Glassblock offer smaller glass block options, utilizing glass block sizes of 6" x 6". The minimum pre-built window panels sizes for these glass blocks are 30" x 12". (with a 3-inch thickness).
These four glass blocks come in different sized units. By using different sized glass blocks, any opening can be filled. This especially comes in handy with retro fits – existing homes or businesses where openings aren't in 8-inch increments. For these, it helps to call one of our representatives at: 877-427-8775, and we'll develop a plan to put together a window that fits your need.
Sizing Options for 6″ x 6″:
Minimum (30" x 12")
Maximum (48" x 48")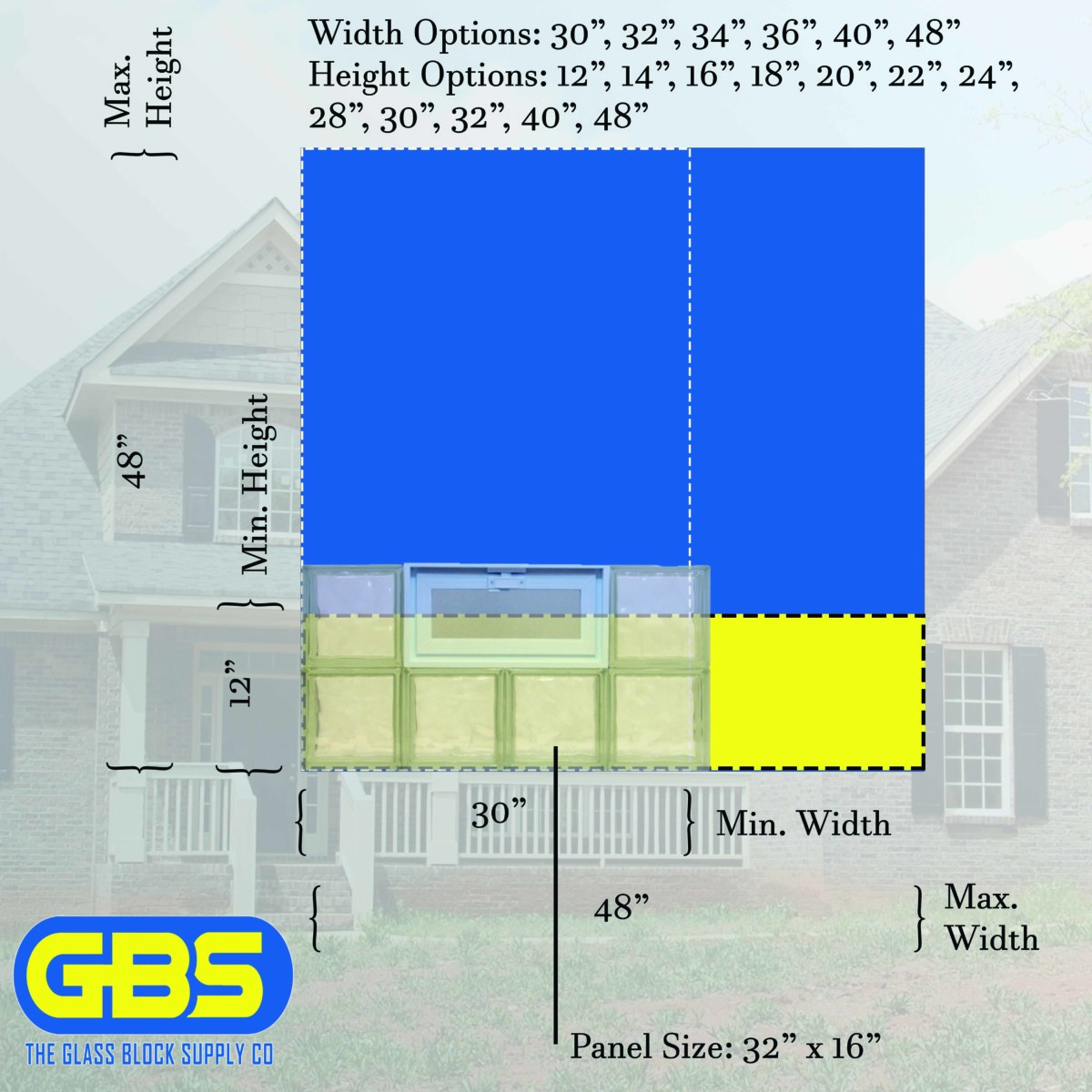 Sizing Options for 8″ x 8″ Glass Blocks:
Arctic, Cross Large, Cross Small, Cuneis, Deco, Alpha, Digona, Inca, Lozenge, Marina, Maya, Midarc, Optical, Paralline, Samba, Savona, Sponge, Stella, Wave
Minimum (32" x 16")
Maximum (48" x 48")
The thickness of the glass block is either 3" or 4". Commercial buildings routinely use a 4-inch thickness, while residential buildings are typically 3 inches.
Vent or No Vent?
Something you'll also need to decide on is whether you want to have a vented or solid glass block panel.
Including a glass block ventilator allows air to flow into the room. Also useful are vinyl dryer vent blocks, which are conveniently used to vent your dryer exhaust hose to the outside of your home.
Glass Block Panel – Solid and Vent
Window Panels
We have all of the supplies you need. If you decide you're also in the market for regular glass block windows, we conveniently offer them with the same gorgeous options as the panels. If you're looking to build your own window, we can provide individual cases of glass block, as well as all of the accessories you'll need, such as mortar, mortar spacers, and panel anchors.
About GBS -The Glass Block Supply Company
GBS – The Glass Block Supply Company, as well as its sister affiliate, GBA Architectural Products & Services, have installed and provided glass block since 1985. GBS always strives to provide customers the widest selection of glass block. Delivered Fast.
The difference between GBS and other glass block suppliers is their expertise and customer service. GBS will promptly work with customers to answer any questions or concerns.
For any questions or information, we encourage filling out our CONTACT FORM, or by contacting us at 877-427-8775.
The Glass Block Supply Company is a proud supplier of SEVES Glassblock.
Other Blogs:
Blog #1: What is Mortar?
---