Glass Block Wall and Glass Brick Wall Applications
So you've decided you want to add a glass brick wall or a glass block wall to your space. Whether this space is your home or business, you've come to the right place for all things glass block/glass bricks. There's two different ways to include a glass block wall into your space; an interior glass block/brick wall and an exterior glass block/brick wall.
Interior glass block walls are great for residential and commercial spaces like offices, bathrooms in your home, or classrooms. Building a glass block wall into these spaces allow for maximum daylighting between spaces, reduction of noise between spaces and excellent fire-ratings.
Exterior glass block walls and glass brick walls are great for commercial applications where you want to let natural light shine to the interior spaces. Customers turn to glass blocks and bricks for exterior walls because of they are low maintenance and great at withstanding damage from outside elements.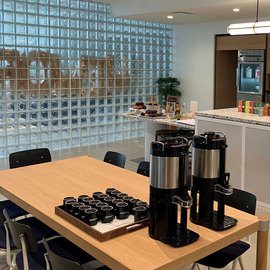 Design Features
Designing your commercial or residential space with the use of an accent wall is the best way to make your space stand out! Using glass block and brick to create stunning accent walls is the most common application for our products. When thinking of glass blocks and glass brick walls, most people think of outdated architectural styles or cloudy old glass blocks. However, when done correctly glass block and glass bricks can provide a practical and aesthetically pleasing application. With our large inventory of glass blocks and glass bricks, there is guaranteed to be a product that will be exactly what you are looking for. 
We offer glass blocks and glass bricks in a variety of shapes and sizes. The most common  glass block for wall applications size being the 8" x 8" x 4". We also carry a number of our glass blocks in Thinline sizes or 8" x 8" x 3". The Thinline Series glass blocks are great for residential applications and are available in a variety of patterns. Here at The Glass Block Supply Company, we also carry the more unique sizes of glass blocks. So, if the inspiration for your glass block wall does not include only square glass blocks, we can help! We carry 4" x 8" x 4" rectangular blocks, as well as corner blocks and radius blocks. 
Just like the glass blocks, our glass bricks come in a variety of sizes. VISTBRIK comes in square 8" x 8" x 3" solid glass. These bricks also come in rectangular sizes such as, 6" x 8" x 3" and 4" x 8" x 3". Similar to VISTABRIK, we carry another glass brick option, Vetropieno. These glass bricks come in two different sizes that are referred to as Rettangolare and Quadrato. Glass Brick Walls have become to modernized version of traditional hollow glass blocks. Using different shapes and sizes of glass blocks and glass bricks is a noteworthy way to make a statement in your space, however, sometimes you are looking for something that will stand out a little more.
Adding a Pop of Color
When done correctly, the color and pattern of the glass block and glass bricks can make a great difference in your project. Our warehouse is fully stocked with hollow glass blocks in almost any color you can think of. Between the Design Line, Imperial Line, and Basic Line we offer popular patterns and styles at the best price. Adding a pop of color in your home or business can really change the overall vibe of your space. A glass block wall is a great way to do this. Whether you are looking for bright, vibrant colors or neutral, monochromatic accents, we have just what your are looking for.
The Mendini collection and Pegasus collection features a unique mix of bright and pastel shades. If you are looking neutral browns and greys to effortlessly blend into your space, the New Color Collection is just that.
If color is not your style, we offer a large variety of clear glass blocks with extraordinary patterns. The Imperial Line that we carry features our most sought after patterns such as, Nubio, Cortina and Clarity. If you are looking to make a statement with a clear glass block wall that has unique patterns, the Basic Line Clear Glass Collection is a great place to look! This line of glass blocks is metric sized and features patterns such as Midarc, Optical, Paralline, and many more!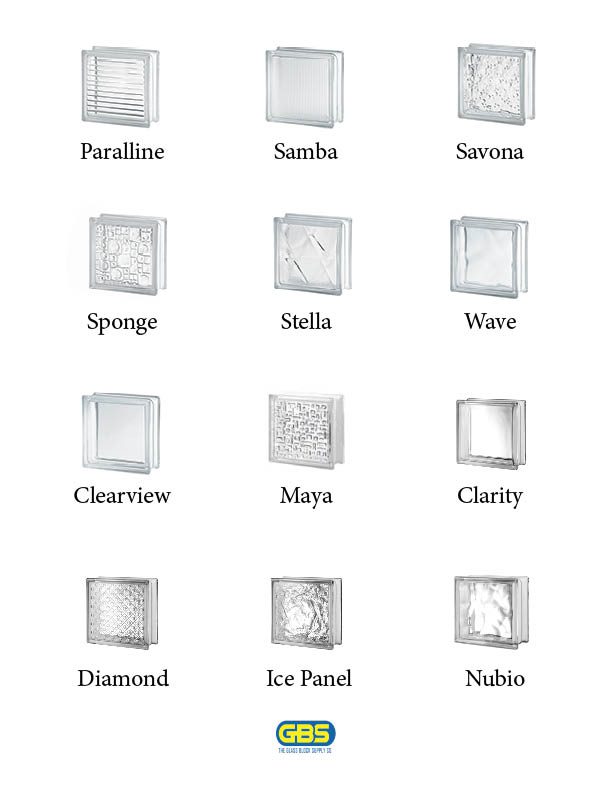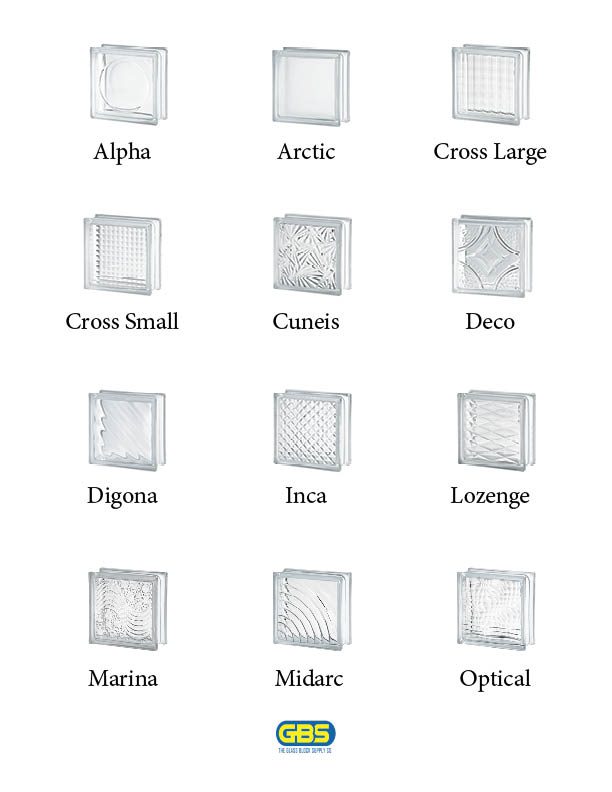 Benefits of Using Glass Blocks and Glass Bricks
Like mentioned above, there are an immense amount of benefits to using glass blocks and glass bricks for interior and exterior walls. Whether it is an interior or exterior wall, using glass to allow light to pass through spaces can have a great number of benefits.
Daylighting is a common topic in the glass block industry. Maximizing daylight in your space can greatly impact the overall mood and level of productivity that takes place in your home or office. To learn more about this, check out this blog our sister company, GBA Architectural Products + Services, published about daylighting.
Alongside the benefits of daylighting glass block can have, privacy is another great benefit to build your walls with glass blocks or glass bricks. We've touched on the level of privacy that using different patterned and colored glass blocks can provide in a few other blog posts. However, a commonly overlooked benefit of glass blocks and bricks is the ability to reduce noise pollution between spaces.
bricks are great at absorbing sound between spaces. Glass block can absorb sounds such as conversations, traffic noise and other unwanted sounds. Because of the ability to block sounds, it makes glass block and glass bricks the ideal choice for bathrooms, office partitions and dining room areas.
Maintenance and security are common concerns when questioning if glass block is the building material for you. Glass blocks and glass bricks are extremely easy to clean and certain products can be resistant to vandalism. We also offer a variety of glass blocks that can be used to build walls that provide different levels of fire-resistance.
Overall, there is an overwhelming amount of glass block and glass brick options that can provide you with what you are looking for. To learn more and start designing your walls, give us a call!
Head to our Pinterest page to see more glass block wall ideas!
About GBS -The Glass Block Supply Company
The Glass Block Supply Company, as well as its sister affiliate, GBA Architectural Products & Services, have installed and provided glass block since 1985. GBS strives to provide customers with the widest selection of glass block, delivered fast and on time.
The difference between GBS and any other glass block supplier is our expertise and customer service. GBS will promptly work with customers to answer any questions or concerns.
We have all of the supplies you need. If you decide you are also in the market for regular glass block windows, we conveniently offer them with the same options as the panels. If you are looking to build your own window, we can provide individual cases of glass block, as well as all of the accessories you will need, such as mortar, mortar spacers, and panel anchors. 
For any questions or information, we encourage filling out our CONTACT FORM, or by contacting us at 877-427-8775.