Surge in Popularity of Glass Block Fueled by Architects and Designers
The market for glass block, glass bricks, and similar products is expected to reach $273 million by 2026, According to the Global Glass Block Market Report 2020. This projected value is an increase of nearly $46 million from 2020.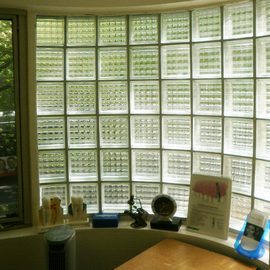 Glass blocks and bricks are available in myriad sizes, textures, translucencies and colors, and designers and architects are constantly finding new ways to use these materials in new builds and redevelopments.
"What architects and designers are able to achieve with glass block and glass bricks is truly remarkable and would have been unheard of with earlier generations of glass block products," said Steve Boesch, Vice President of The Glass Block Supply Company and GBA Architectural Products + Services. "There is a potential for real artistry and creativity with options available on the market today."
Glass Block
Glass block dates back to 1907, when German company Deutsche Luxfer-Prismen-Gesellschaft developed a process that fused two sections of glass into a single unit, making a stronger glass that could be used to bring natural light into factories and used like concrete blocks.
Property developers are building on this tradition today still, with the use of glass block and brick in both commercial and residential spaces booming. St. Ann's Warehouse in Brooklyn, New York, features 3,000 square feet of the product, flooding the art space with natural light. The Comedor Restaurant in Austin features two exterior walls constructed of glass brick interspersed with masonry.
Residential use is booming too, with glass brick used as a divider in open plan properties like lofts and studios, in shower windows, enclosures, and glass block windows.
"We are thrilled to have the opportunity to collaborate with so many creative professionals as they design functional and impactful spaces with our glass block and glass brick product lines," says Boesch. "We remain committed to offering the newest, most innovative items to make each of their visions a reality."
---