So you've decided you want or need glass block for your next project. When searching for places to buy glass block you might search google for things like "glass blocks for sale", "where can I buy glass blocks", "glass blocks for sale near me" or "where to buy glass block windows". These specific searches may provide you with places to purchase glass block, however, they don't provide you with reasons why you should buy glass block from companies that show in your search results. We are here to change that!
Keep reading for the top 5 reasons to buy glass block from our knowledgeable staff at The Glass Block Supply Company. At the end of this article, you will also find what information we need to provide you with the most seamless transaction for your glass block.
Number 1: We've Been Around Block When it Comes to Glass Block
The Glass Block Supply Company was founded over 35 years ago in small town Medina, Ohio. At that time, we did it all. From distribution to installs, we were the go-to company in Northeast Ohio. Since then we have grown to one of the top distributors for glass block across the country. Our time spent in the commercial and residential constructional and remodel industry has lead to exceptional expertise in the field. The founders of The Glass Block Supply Company have been able to pass their knowledge onto our staff to help bring you a team that truly understands the unique capabilities glass block provides.
Number 2: Our Pricing is Hard to beat!
No competitor can match our fully-stocked warehouse or inventory selection. As a high volume SEVES Distributor, The Glass Block Supply Company buy wholesale glass block at the best prices and passes the savings on to you. It would be difficult to buy glass blocks cheaper through any other company. Also because of our expansive inventory of just the right sizes and patterns, allows us to handle any size order with ease. Our commitment to delivering what you need on time keeps our customers coming back.
Number 3: We Are Here to Lasting Built Relationships
Over the last 35 years we've meet a large number of people and companies that love the glass block industry just as much as we do! We've grown from our humble beginnings doing window and wall installations, now we focus on providing you with the best products we can. Because of that, if a professional installation is needed for your project we are able to use our connections with a number of companies to get your project installed and completed ASAP! Our number one goal is to provide you with the best service to build a long last relationship with you as a consumer as well!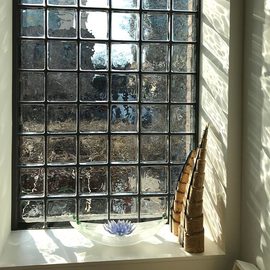 Number 4: Our #1 Priority is Your Happiness
Without our customers our brand would not be what it has grown to become! Our number one goal is our customers satisfaction. Our knowledgeable staff will help you with all project details, from pre-planning and design validation to selecting all the correct materials.
As one of the largest suppliers of SEVES Glass Block products, we are positioned to deliver our customers the best product, the best service and the best value. Glass block is all we do and our reputation for excellence plays a major role in our continued growth and overall customer satisfaction.
Number 5: Easy Access to Our Products
The Glass Block Supply Company website is one of the few e-commerce websites that you can use to buy glass block! We have designed our website to provide the most user friendly version to our consumers. Whether you need to purchase a single case of glass block, a glass block basement window or accessories for your glass block installation, you can find it all on our website. All of our products are able to be purchases right through our website and shipped directly to your home or business. As always though, you can call our office anytime Monday – Friday to make a purchase or fill out the form on our website!
To receive a quote or make a purchase over the phone, there are a few things we will need to know first!
Before a purchase can be made, we will provide you with a quote to approve. To get the most accurate pricing, we need to know who the order is for. Please let us know if the purchase will be made by a retail customer, contractor, or wholesale. After we determine the customer making the purchase, we will need your name and/or name of the company. Contact information such as phone number and email will also need to be provided. The email given will be used by our team to send you the quote.
Of course we will need to know what product is being purchase. As well as, the quantity of the items being ordered. For example, if you are looking to buy Clearview glass blocks. They come in three different sizes, metric 1111/8, 1919/8, and 2411/8. If you are looking to purchase a window or panel, we will need to know what size the opening is, what pattern of glass block, and whether you need a window dryer vent in the window/panel or not.
If you are unsure about what size you need for either glass block or window/panel, one of our team member will be able to assist you. The last bit of information we will need is the billing address and the shipping address for the order. The shipping address in addition to the size of the order will determine what shipping carrier is used for delivery. After all information is acquired, we will email you the quote as soon as possible for you to approve.
The quote will include the cost of the order, the approximate shipping cost, and the approximate lead time on the order. As mentioned above, the quote will be sent to the email we are provided with. Once it is approved, a credit card will need to be placed on file for the order. We accept all credit cards (VISA, MC, DISC, AMEX). For pickup orders we accept cash, credit card and checks upon pick up.
Don't forget to follow social media accounts! Facebook and Pinterest.
About GBS -The Glass Block Supply Company
The Glass Block Supply Company is a leading provider of glass block and accessories. If you're planning to install glass block windows or a glass block shower to liven up your space, we can supply you with everything you need.
As a company that has completed installations across the country since 1985, we provide something that big box stores can't: expertise and unparalleled customer service. If you have questions about putting together a glass block project, we can walk you through the process.
For assistance on how to install or design a glass block bathroom window or shower wall, we encourage filling out our CONTACT FORM, or by contacting us at 877-427-8775. We're here to answer any questions.
We are a proud distributor and partner of SEVES Glassblock.
Other articles similar to 2 Unqiue Ways to Use Glass Block in Your Bathroom and Is Glass Block Easy To Clean?